AT THE MARKET — Luxury case goods and upholstery manufacturer EJ Victor is launching a line developed in partnership with women's apparel and accessories brand Kate Spade New York at this week's market.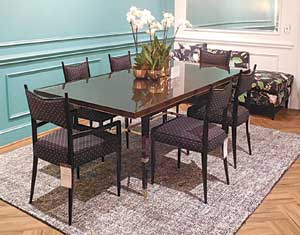 The Georgia dining table is part of the new Kate Spade collection at EJ Victor. It is made with ebony and has an onyx base and metal stretcher. The table retails at about $5,799.
The 34-piece line is split evenly between upholstery and wood product, and includes bedroom, dining room and occasional furniture, said John Jokinen, president and CEO of EJ Victor."It is a good mix of product and is obviously in the Kate Spade design ethic in terms of what the brand is all about," he said. "It has a lot of good style at achievable retail price points."
Sofas retail from $3,499 to about $3,999 and cocktail tables retail at $2,999. There is one wood-framed bed with upholstered inset panels that retails for about $6,499 and a dining table with a brass bow stretcher that extends to 124 inches that retails for about $5,299.
The upholstery is made in North Carolina, while the case goods are sourced overseas and made with a mix of high-quality solids and veneers including ebony, rosewood and walnut.
Other companies that are introducing product under the Kate Spade name this market include Visual Comfort (lighting); Jaipur (see story below) and Kravet (fabrics and wall coverings). Including the furniture, there are 325 pieces across all four categories.
"Each piece in our extensive collection reflects traditional and modern influences, but with a unique Kate Spade New York twist," said Deborah Lloyd, president and chief creative officer of Kate Spade New York. "We translated iconic Kate Spade New York designs like subtle bow accents, as well as signature colors and fabrics, such as shocking pink linen and turquoise velvet, into stylish and unique home items. We cannot wait to see how our customers layer our pieces into their homes to express their own interesting, personal style."
Jokinen, of EJ Victor, said he believes the line is more moderate in scale and believes it will attract a younger customer that appreciates the Kate Spade brand.
"Kate Spade connotes women's fashion, and that is the panache they bring," he said, adding that he believes even a small vignette at retail could be an affordable way for dealers to expose their customers to the brand.
He added that the line, which has been pre-ordered and is expected to hit retail in November, also will be shown in Kate Spade New York's dozen retail stores.
"One of the great things about Kate Spade is they are a marvelous marketing company," Jokinen said. "They really go all out in terms of exposing their product. They are so professional, and I have been very impressed with what they do."
EJ Victor's showroom is at 116 S. Lindsay St.
source:furnituretoday.com